About Terry Cook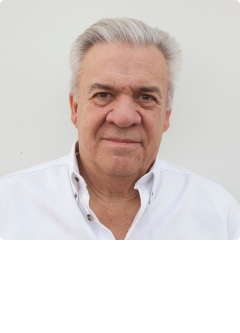 Drawing cars at age six, Terry saw his first hot rod when he was nine. He joined the local hot rod club before he got his driver's license. He was the flag starter at Island Dragway in Great Meadows, NJ when it opened in 1961.
After three years at Lehigh, he started his journalistic career writing his weekly column for nationally distributed Drag News. He moved to California when offered a job at Drag World Newspaper, from there landed a job at Petersen's Car Craft Magazine. In a few years he was editor before becoming editor of Hot Rod, then the world's largest circulated auto publication. Additionally Terry started Vans & Trucks Magazine.
He started the Chester Turtle Races and published Turtle Racing News. He was the Grand Imperial Lizard of the International Federation for the Advancement of Racing Turtles (IFART). After a one year stint as Turtle Wrangler (staff writer) at Car and Driver Magazine in New York City he founded T-Shirt Retailer, a trade magazine which he later sold.
In 1983 Cook started Lead East, "World's Biggest 50's Party", a five day long, family oriented oldies flavored car event. It attracted 10,000 people and 1,800 vintage cars from 23 states. With as many as 25 live bands on four stages simultaneously, it had triple feature oldies drive in movies featuring cheezy Sci-Fi and hot rod flicks. Held at the 520 room Parsippany Hilton Hotel, it was the largest old car event in the tri-state NY-NJ-CT area. No car event like it anywhere on the planet. After 35 years, in which he entertained more than a quarter million people, Terry sold the event and "retired".
Mr. Cook is not a hands on builder, but has designed many award winning hot rods including a trend setting 1939 Lincoln Zephyr "Scrape". He had fiberglass molds made and produced 150 Zephyr bodies. His cars are in museums and collections from Moscow to Tokyo. Cook's streamlined boat tail speedster and 1937 Bugatti hot rods were influenced by pre-war European coach built cars and were built under the brand names Deco Rides and Delahaye USA.
Whether it's writing a story, launching or editing a successful magazine, creating a wacky event or designing unique hot rods, Cook is a 24 volt guy in a 12 volt world! Nothing Terry does is normal.
David E. Davis Jr. said, "Cook is the Rolls Royce Merlin of unique ideas and enthusiasm."
Dave Wallace Jr, said of Terry, "Arguably the best Petersen editor ever, he was undoubtedly the most controversial."
As well as the Americas from Buenos Aires to Alaska he has traveled Europe, the UK, the UAE, Saudi Arabia, New Zealand, Japan, Korea and Thailand. Having a life doing what he loves, I WAS THERE is a compendium of the hijinks and supercharged car oriented lifestyle he has been blessed to experience. In 2021 Terry will be inducted into the Drag Racing Hall of Fame.
The Books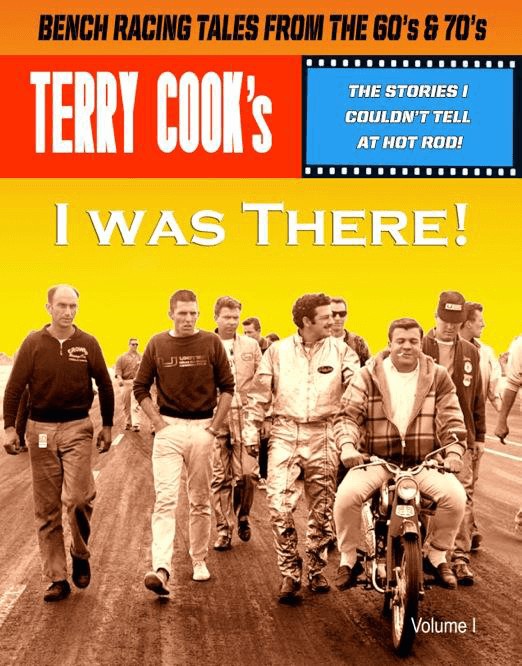 Volume I
Grumpy Jenkins, Carl Olson, Sneaky Pete Robinson, Von Dutch, prankster TV Tommy Ivo, Hunter S. Thompson, Art Arfons, Jungle Jim Lieberman, Cha Cha Muldowney, Steve Gibbs, Joe the Fonz Carloni, Danny Ongias, Benny Osborne, Tony Feil, Pete Van Iderstein, William Jeanes and Wally Parks.
Dozens of wacky stories like the time my dad called the police on me, panic the night I sold my Scrape Zephyr, Frank Sinatra's Facel Vega, Larry Shinoda and the silver bullet, Lions drag strip was Mecca, antics in Australia, how not to get people's attention, the dumbest thing I ever did, the Ant Farm, redneck pickup in Arkansas, the first hot rod I ever saw plus never before told behind the scenes antics by Car & Driver Editor Bob Brown and Hot Rod Editor Jeff Smith.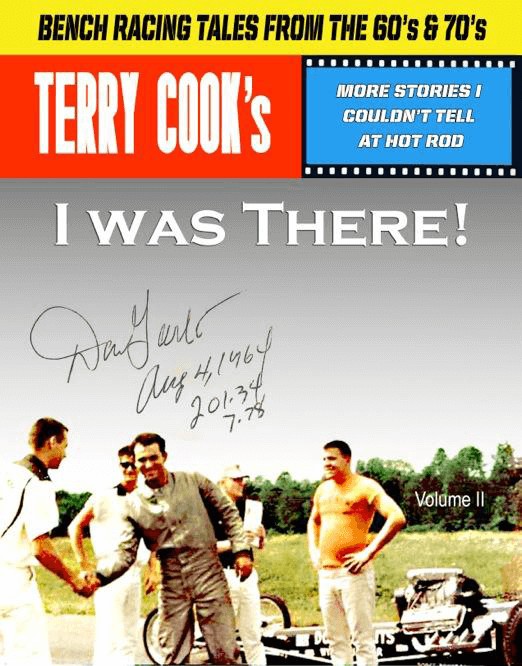 Volume II
Don Garlits on flying saucers, God and politics, Hand Grenade Harry with tales from the Pond, Sal fish, John Force, Jocko Johnson, Malcolm Bricklin, the Surfers, the Prince of Monaco, Danny Thompson, Bill Maverick Golden, Connie Swingle, Wild Bill Shrewsberry, Emmerson Fittipaldi, test pilot Darryll Greenamyer and Chris the Greek Karamesines.
Chock full of nostalgic knee-slappers from Squires of Chatham, lurid never before told craziness from the vortex of custom van movement, the Cannonball Run, indoor drag races, 46.2 g's of deceleration, the best car practical joke ever, Europe by low rider, the incredible Car Craft Hemi Cuda, my ten favorite car events, 80 foot flamethrowers and more…